We now accept BPAY as a deposit method to buy Bitcoin!
We have recently obtained a new banking relationship, that allows us to accept BPAY deposits.
To make a deposit simply got to your account page - Fund Deposit - and choose BPAY.
BPAY Deposits generally take about one workday to be credited to your HardBlock account. We charge no fees on BPAY deposits.
As this is a new bank relationship we have to be particularly careful in minimizing fraudulent deposits. For this reason, we have restricted the max deposit size to $1000. This deposit limit should increase by the end of 2019. We might also require additional verification on customers who make BPAY deposits which are deemed suspicious.
There are no Bitcoin withdrawal limits on BPAY deposits, excluding the very first deposit.
As always only deposits from a bank account in your name will be accepted.
How To Buy Bitcoin with BPAY
First, you need to create a HardBlock account and then you will need to verify your ID. You can learn about this process in our how to buy Bitcoin guide.
Following verification go to the Fund Deposit page and choose BPAY as the deposit method.

On the following screen, you will see our BPAY biller code and your unique reference number. Do not give this reference number to anyone. The reference and biller code in the image below are examples and not real.
Up top, you will also see your deposit limit. This increases as you complete more deposits. You can learn more about deposit and bitcoin withdrawal limits here.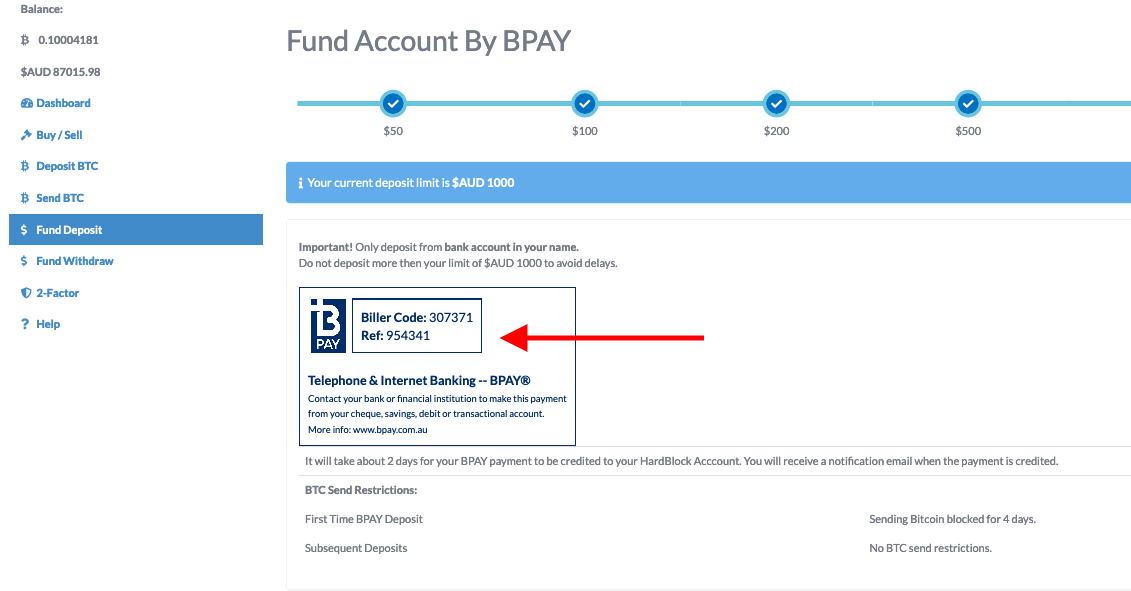 Happy Trading and Hodling!