This is not a history of Bitcoin (BTC) but a practical step-by-step guide on buying Bitcoin in Australia and staying on the safe and legal side of things.
If you have already decided that you need to buy Bitcoin but
are unsure how and where to start,
what should be done before your first Bitcoin purchase,
how to secure your crypto investment,
read on.
We will answer all the frequently asked questions of those new to cryptocurrency.
Want to buy Bitcoin right away and set up a wallet later?
Want to jump at the current exchange rate and not risk Bitcoin price going higher?
You can safely do this within 5 minutes or so!
– everything within 5 minutes or so.
It will be safely stored in your account with HardBlock, the first Australian Bitcoin-only exchange, trading Bitcoin since 2014 - until you learn everything you need to store your Bitcoin investment securely.
If you think you will need a few days to get everything up and running, we suggest turning on 2-factor authentication. 2FA gives you peace of mind as no one else will be able to break into your account unless they get into possession of your HardBlock account password and your phone with the 2FA codes generator.
Why invest in Bitcoin?
First and foremost, do not buy multiple cryptocurrencies,
start with investing in Bitcoin – the first cryptocurrency which has been tested by time and users, and has shown itself to be secure. Below is a chart with the number of Bitcoin transactions:
You might want to have a look at other Bitcoin charts at Blockchain.com.
Unlike many so-called altcoins out there, Ponzi schemes, and so on, Bitcoin showed consistent growth in value. Have a look at the Bitcoin price chart (BTC-AUD):
You can always quickly check the market price of Bitcoin and other cryptocurrencies on Google.
Savings in Bitcoin or AUD?
If the Bitcoin price chart gives you an impression of Bitcoin as a risky investment, compare it to the purchasing power of one Australian dollar (AUD) on a chart from 1966 to 2020.
Which store of value is preferable?
The inflation rate in Australia between 1950 and 2021 was 2,629.72%, which translates into a total increase of $2,629.72. This means that 100 dollars in 1950 equal 2,729.72 dollars in 2021. In other words, the purchasing power of $100 in 1950 equals $2,729.72 in 2021. The average annual inflation rate between these periods was 4.77%.
AUD Inflation Calculator - Australian Dollar (1950-2022) (inflationtool.com)
💡
Fiat money – is the money issued by governments and banks, a legal payment tool.
So, keeping your savings in fiat money is probably not the best idea. Mainly because fiat money is not backed by anything tangible, governments can print new money uncontrollably and, thus, inflate the economy and depreciate your savings.
There were 7.13 billion Australian dollars in circulation in January 1960 and 2720.86 billion in May 2022 ( x 381 increase!):
💡
In comparison, from March 1960 to May 2022 US multiplied their 298.2 billion USD by 73.5.
💡
While Bitcoin issuance is technically limited (predefined) and capped by 21 mln.
By the end of the financial year 2021/2022, around 19 mln BTC were issued. As of mid-2022, a Bitcoin miner receives approximately 6.339 BTC (~ 193,000 AUD) for processing each Bitcoin block of transactions. If you want some charts on Bitcoin mining, transaction fees, etc., we recommend Mempool.
Which cryptocurrency to invest in?
If you're new to cryptocurrencies, do start with Bitcoin only.
Bitcoin in cryptocurrency is like USD in the world economy. If everything goes down, Bitcoin probably goes down last, in the long run at least.
HardBlock is a Bitcoin-only exchange because we genuinely believe in Bitcoin and are confident in its longevity.
We cannot say the same about any other cryptocurrency or fiat money.
In our opinion, which is not financial advice, Bitcoin is one of the safest ways to keep your savings.
If your main intention is to trade Bitcoin and earn on the BTC-AUD rate difference or derive income from a sudden rate growth, other cryptocurrencies might seem more appropriate. But at the same time, it will be much riskier too.
Hence, we do not advise trading cryptocurrencies or investing in new cryptocurrencies unless you genuinely know what you're doing, which probably is not the case, otherwise you wouldn't be reading this article. :)
HardBlock facilitates saving your fiat money in Bitcoin the easy way.
Where to Buy Bitcoin?
Mainly, you can buy Bitcoin either from a private person (aka peer-to-peer exchange), on the conditions and at a price you agree on, or from a digital currency exchange provider.
It is not easy to find people to trade Bitcoin with and even harder to conduct a transaction securely. To be sure you won't be scammed, you really need to know the person.
Do you send the money first and then receive Bitcoin? What if the other party does not deliver? What if the Bitcoin buyer charges back? How do you prove a transaction?
There are websites allowing users to search for and trade with each other. Some act as an intermediary, providing some sort of a guarantee, a rating system, etc. Still, they are not financially liable for their users' actions.
Therefore, trading Bitcoin with a person probably is not the best way.
💡
Buying Bitcoin from a registered digital currency exchange provider, on the other hand, is more reliable and secure.
Do not trust everything you read, however. There are a lot of cryptocurrency scammers who create quite sophisticated and professional-looking websites that sound legit.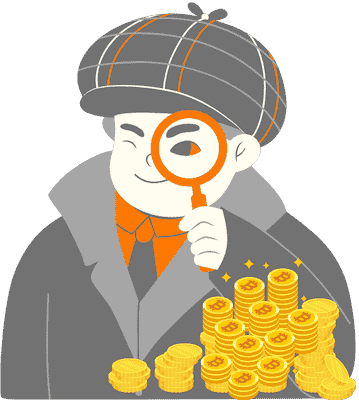 Do some Bitcoin trader due diligence
Make sure the company name (not the domain name itself) and ABN are provided on the website,
search for a business name if it differs from a company name, as is the case with HardBlock, and is not mentioned in the ABN extract information (obtained in a previous step),
check the age and registrant of the domain name (we discourage from trusting the domain names that are not at least a few years old). For hardblock.com.au, the registrant is the company: TRIPLE LINK LABS PTY LTD. If the registrant's name is redacted (privacy protected), the registrant is a natural person, not a company, it might be a red flag,
also, if, along with the redacted data, Cloudflare name servers are used (which can be legit protection of the website servers, but it is also often used by scammers to hide the actual hosting provider and, hence, cut off possible connections to the real people even more).
for com.au domains, you cannot see the creation date, but there is a workaround through web.archive.org – which is worth visiting anyway, to check historical prints of the content at the domain name. Again, make sure there was a website at the domain name for at least a few years. However, remember that web.archive.org might not have all the changes reflected or the earliest content saved.
FYI: hardblock.com.au's earliest copy dates back to 2019 only because before that HardBlock Bitcoin Exchange was operated at hardblock.net by the sole trader Daniel Wilczynski, founder and CEO of  Triple Link Labs Pty Ltd.
Choose your Bitcoin exchange partner carefully.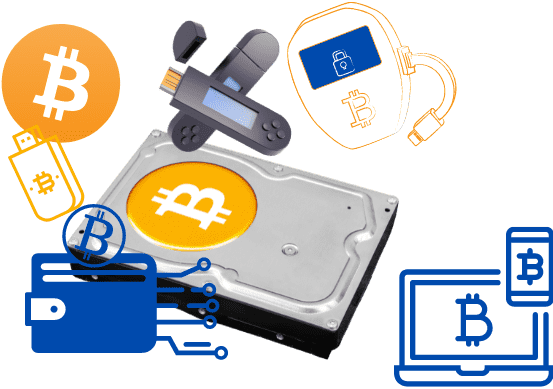 How to open a Bitcoin wallet?
It is not enough just to buy Bitcoin and keep it with someone else. If you did your due diligence and the chosen Bitcoin exchange provider is reliable, it is totally fine to keep your money with it for some time, especially if you decide to trade and earn on the rate change.
But we absolutely encourage you to self-custody long-term savings. It is, after all, a considerable advantage of Bitcoin compared to fiat money in a bank, which technically can be taken away from you at any time. However, to keep it fair and transparent, the Australian government guarantees money in a bank in the amount of $250,000.
So which Bitcoin 'wallet' to choose and how to set it up?
HardBlock helps you choose the best place to store Bitcoin for your purposes and requirements. We want to make sure you make a conscious and informed choice.
Our extensive research on the Best Bitcoin hardware wallets & cold vs. hot storage (when there is a designated device, "hard" storage of your Bitcoin, which you materially have at your disposal and use to access your wallet) & Best Bitcoin software wallets (when you use 3rd party software to access your wallet).
How to Reduce the Risk of an Exchange Account Hack (hardblock.com.au)
What is the difference between a Bitcoin wallet & Bitcoin address?
We have a short article about Bitcoin addresses. Bitcoin wallet is an abstract idea, a sum of all your Bitcoin addresses to which you hold a public and a private keys, granting you access.
To receive Bitcoin, all you need is one Bitcoin address.
To send Bitcoin, you will need access to your wallet, which depends on the Bitcoin wallet (software) you're using. However, technically you need a Bitcoin address with sufficient Bitcoin on it and a private key, which acts as a password to access funds on this particular Bitcoin address.
Is Bitcoin legal in Australia?
It most certainly is!
💡
Bitcoin is a cryptocurrency. Cryptocurrency falls within the definition of digital currency. So Bitcoin is a digital currency, legally speaking.
Anti-Money Laundering and Counter-Terrorism Financing Act 2006 defines digital currency as:
(a)  a digital representation of value that:
   (i)  functions as a medium of exchange, a store of economic value, or a unit of account; and
   (ii)  is not issued by or under the authority of a government body; and
   (iii)  is interchangeable with money (including through the crediting of an account) and may be used as consideration for the supply of goods or services; and
   (iv)  is generally available to members of the public without any restriction on its use as consideration; or
(b)  a means of exchange or digital process or crediting declared to be digital currency by the AML/CTF Rules.
💡
Digital currency can even be exchanged for goods, services or physical currency, as
confirmed
by the government agency Australian Transaction Reports and Analysis Centre (AUSTRAC).
For various legal purposes, you might want to know that ASIC view is that digital currencies themselves do not fall within the current legal definition of a financial product. Contracts for the sale and purchase of digital currencies that are settled immediately are not financial products. As a result, the buying and selling of digital currency and operation of an exchange on which it can be bought and sold are generally not financial services or financial markets (par. 45-51 of the Australian Securities and Investments Commission's (ASIC's) Submission to the Senate Inquiry as of Dec. 2014).
💡
ASIC specifically said that Bitcoin itself is not a financial product.
As a matter of fact, more and more people are setting up an SMSF to invest their pension funds into Bitcoin. HardBlock can help you with a quick guide to opening your Superannuation Fund (SMSF) eligible for crypto investments.
Bitcoin Taxes in Australia
An important thing to consider before you start trading cryptocurrencies, Bitcoin included, is that, in Australia, crypto transactions are subject to Capital Gains Tax (CGT) and Income Tax.
You need to report and pay taxes when a taxable event occurs. Transfering your cryptocurrency, which means not only selling it (for fiat money) but also exchanging it for another cryptocurrency, is a taxable event.
HardBlock helps you easily track all your transactions made on hardblock.com.au and upload them in an automated cryptocurrency tax online software for easier tax reporting, like Koinly. We recommend reading their detailed article on Bitcoin taxation.