Outta My Way! When Price Resistance Become Support
August has seen Bitcoin break through a strong resistance level with the digital currency hitting prices not seen in over a year.
In mid-August, its price topped out at AUD $17,200 and has since retraced back to AUD $15,600. This is around the monthly opening price, which is now acting as a support level for Bitcoin.
Interestingly, the dominance of Bitcoin against altcoins has been steadily decreasing over the past few months despite its rise in price.
Knock, Knock. Who's There? Institutional Investment
Bitcoin Magazine reports that institutional business intelligence company, MicroStrategy, has invested nearly 25% of its full value to round up 0.1% of the total bitcoin supply.
To put that into perspective, that's like buying 100 tickets to a sold-out MCG that holds 100,000 people. One-thousandth of the total capacity.
The CEO of MicroStrategy, Michael Saylor, shared his company's reasons why:
"We find the global acceptance, brand recognition, ecosystem vitality, network structure, architectural resilience, technical utility, and community ethos of Bitcoin to be persuasive evidence of its superiority as an asset class for those seeking long-term store of value,"
MicroStrategy's decision sends a big message to other companies around the world who are constantly looking for an edge over their competitors.
Bulls Like Wallets: How Many Do You Have?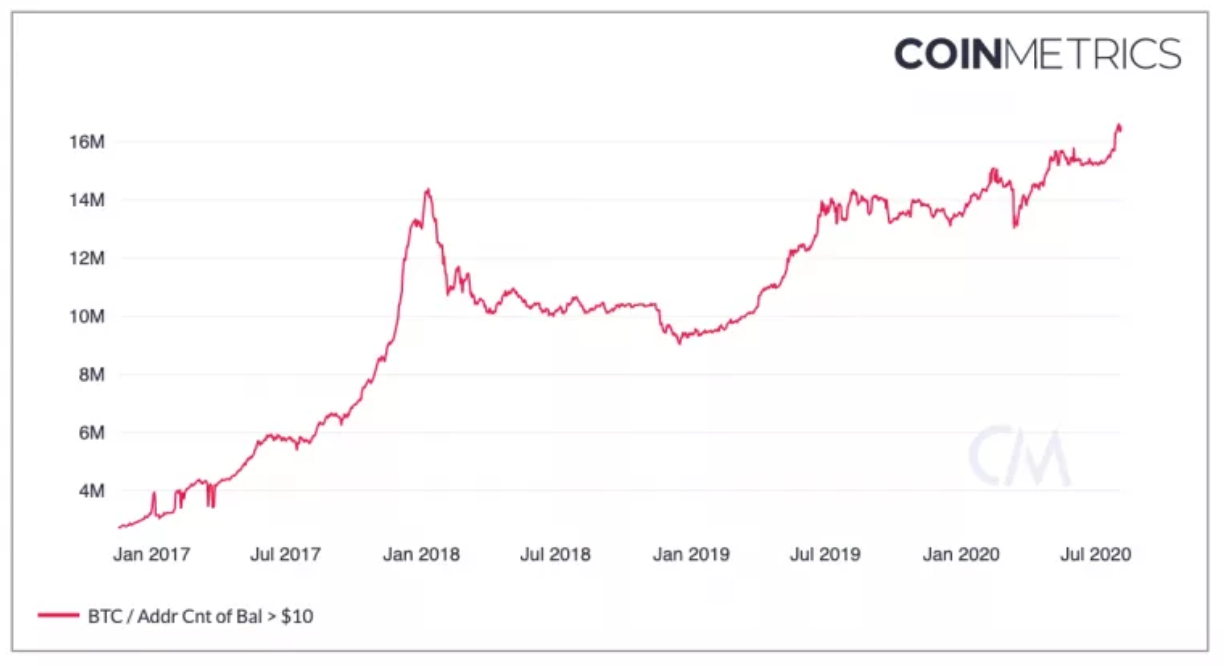 Bitcoin addresses with a balance of at least $10. Source: Coin Metrics
The number of bitcoin addresses holding at least $10-worth of cryptocurrency recently rose to a record high of 16.6 million, according to data source Coin Metrics.
Though, it's worth noting that wallet-address growth is not a precise indicator of bitcoin's user base because a single individual or entity can hold multiple addresses.
What's interesting is the correlation between the increase in wallet-addresses and the lead up to the 2018 bull run.
Alts Rising From The Ashes
Interestingly, the altcoins have rallied and have since seen a resurgence in their piece of the total market cap pie.
One standout altcoin is the decentralised finance (DeFi) token, Chainlink.
Chainlink token's price has increased more than ninefold since the start of the year to about $6.6 billion. It's now bigger than Bitcoin Cash, Litecoin or Binance Coin.
The euphoria around Chainlink is due, in large part, to this winter's fevered activity surrounding decentralized finance, reports Coindesk.
The most popular of which let users lend or borrow cryptocurrencies and to speculate via a technique called yield harvesting that often promises short-term returns of more than 100%.
Chainlink claims its technology, which essentially delivers price feeds to DeFi apps, helps power 95% of all public blockchain derivatives.
From Around the Web…
Mike Novogratz on Bitcoin on Tim Ferriss Podcast
5 National Currencies That Bitcoin Is Absolutely Crushing in 2020
What's Behind the Meteoric Rise of Chainlink?
Bitcoin DeFi May Be Unstoppable: What Does It Look Like?
Companies accepting bitcoin: Why corporate is taking crypto
Why Trump Banning TikTok May Be a Blessing for Bitcoin Price, Adoption