Bitcoin Obliges To Black Friday Deals

As we approach the end of November, Bitcoin has taken a (much needed) breather from its magical bull run of the last few months.
Price approached its 2017 all-time high and hit a local top at around AUD $26,506. At the time of writing, bitcoin has since corrected to AUD $ 23,424.
The correction is certainly not a time to despair, as Bitcoin appears to be just waking up from its long winter slumber.
Consider this correction a Black Friday discount.
Why This Bitcoin Bull Run Is Like No Other
Is it retail? Is it institutional?
Well, if Google Trends is anything to go by, then it's certainly not retail.
Google Trends reveals the interest in particular search terms over time. That spike you see in the graph above, that's in alignment with Bitcoin's December 2017 all-time high.
That was retail FOMO.
Fast-forward to now and Bitcoin is returning to those heights without the same retail interest.
In a Cointelegraph article, Sam Trabucco, a quantitative trader at Alameda Research, believes four general factors are pushing up the price of Bitcoin (BTC): increasing adoption, whales, inflows from other products into Bitcoin, and influence from other markets.
A user on Reddit has also correlated wallet exchange balances increasing as price rises.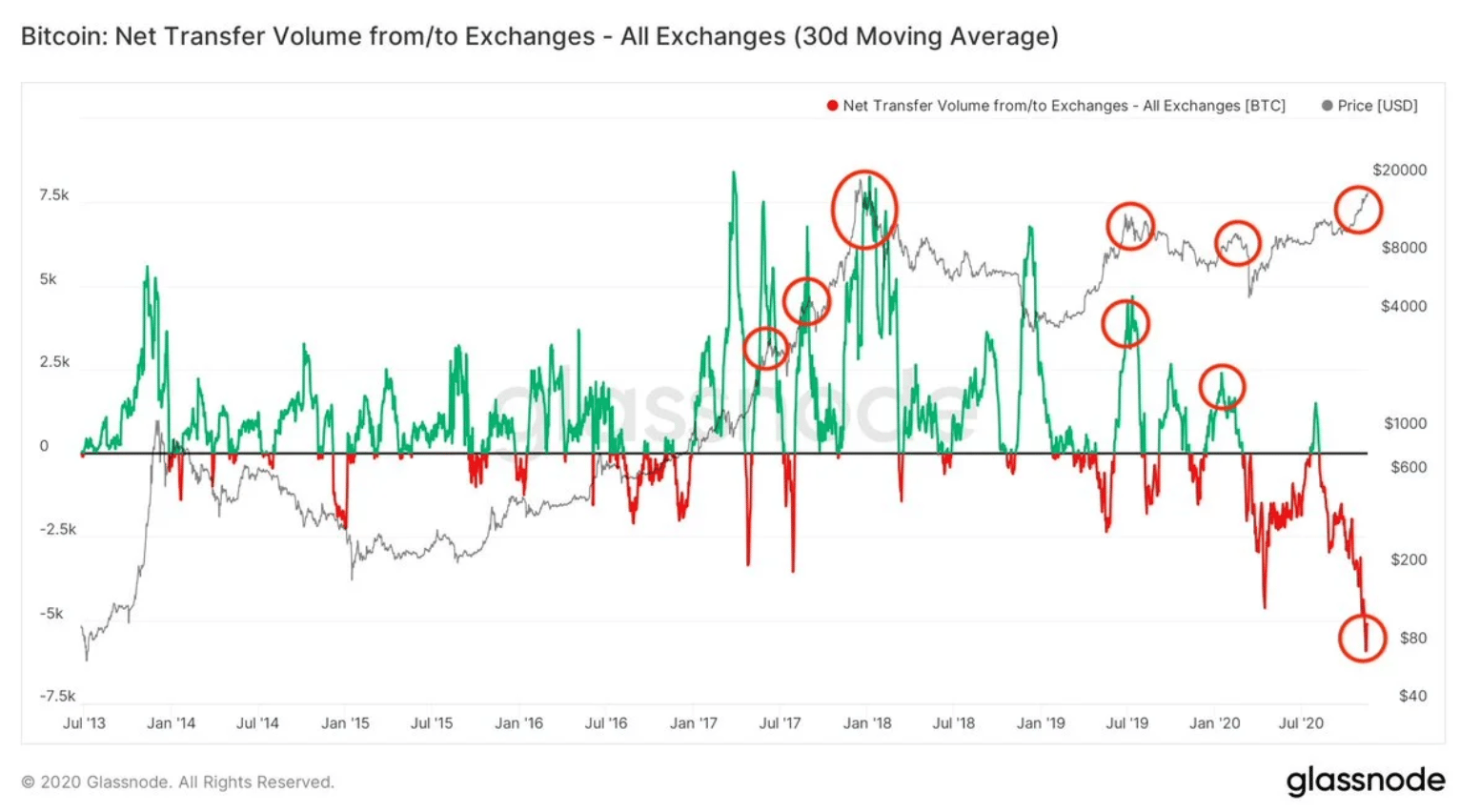 The above graph illustrates that volume is actually leaving exchanges during bitcoin's price rise.
Where is it going? You'll have to get your speculation hat on. Perhaps all these institutional adoption articles we've seen over the past few months have some truth to them.
If some of the world's top investors, such as Paul Tudor Jones and Ray Dalio (see below), are publicly commenting on Bitcoin, then they are at least having that conversation behind closed doors.
Bitcoin Just Had Its Biggest Mining Difficulty Drop Since 2011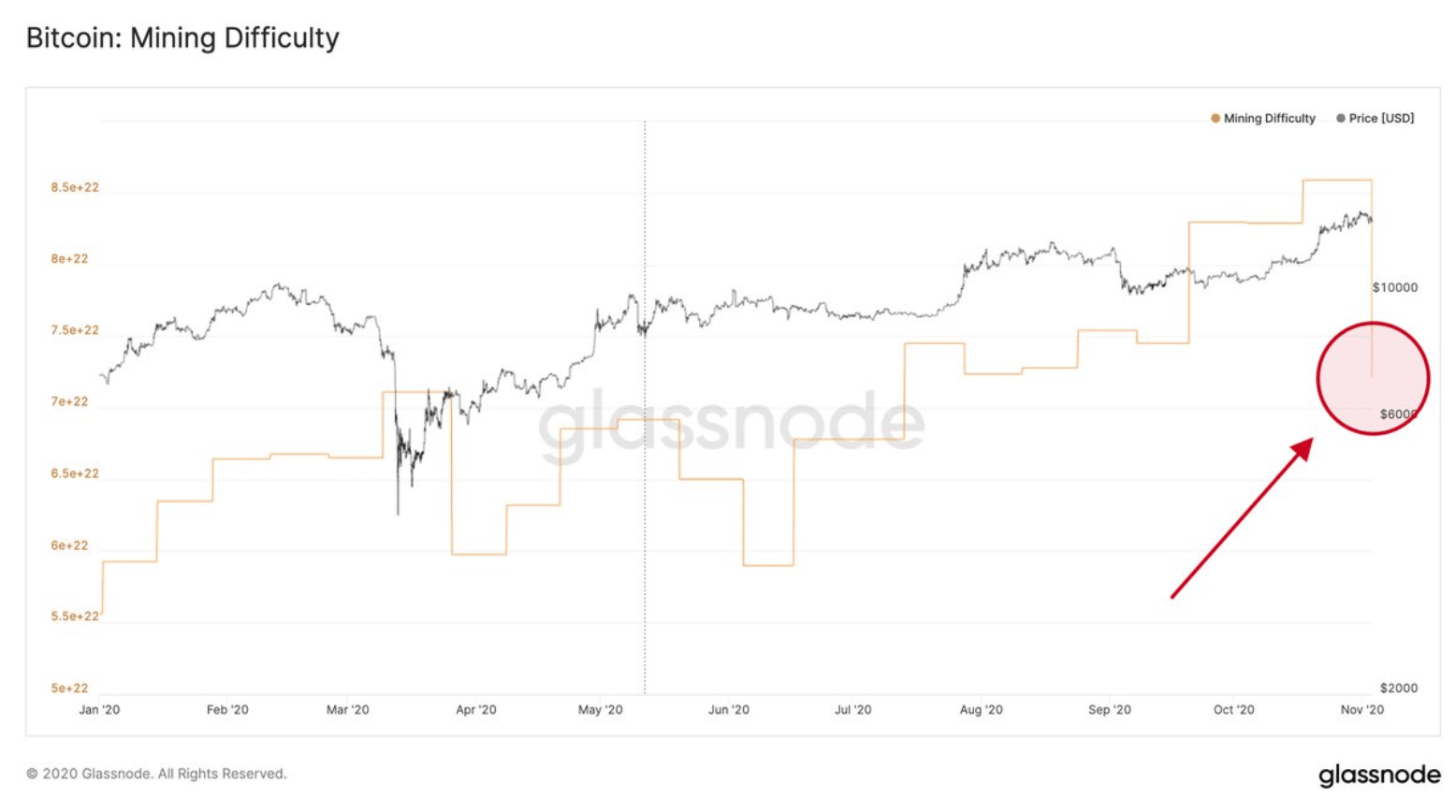 Bitcoin difficulty chart with latest drop highlighted. Source: Glassnode/Twitter
Every 2016 blocks, mining difficulty adjustments take place. These adjustments allow Bitcoin to remain as "hard" money regardless of external factors impacting miners.
On November 3, the adjustment saw the second-largest drop (-16%) in Bitcoin's history. The largest drop (-18%) taking place in 2011.
Reductions help incentivise more mining participants to compete for block rewards with the result being that difficulty begins to rise again.
The design of mining adjustments is viewed as one of Satoshi's most beautiful as the network flawlessly takes care of itself.
For us, that means a reduction in fees and a decrease in block times. However, with Bitcoin rallying at the start of the month, fees, too, have seen a sharp increase.
The King of Hedge Funds: Ray Dalio Comments on Bitcoin
Uber successful hedge fund manager, Ray Dalio, made comments on Bitcoin in an interview with Yahoo Finance, reports the Cointelegraph.
Dalio commented that he doesn't "think digital currencies will succeed in the way people hope they would."
His scepticism comes down to the regulatory threat against them if the price continues to rise. He expects authorities to clamp down on cryptocurrencies when they see "material" growth.
However, Bitcoin doesn't operate within borders so it will be difficult to regulate.
The former US President Barack Obama has compared a Bitcoin wallet to that of a Swiss Bank account way back in 2016 at South by Southwest.
Whichever way it plays out, it will be a fascinating watch over the coming years.
Later in the month, Bitcoin Magazine wrote an article responding to a Twitter thread that Ray tweeted about Bitcoin. It's worth a read.
From Around the Web…