October has been a stellar month for Bitcoin with an approximate 30% increase since the month's opening.
At the time of writing, price is hovering at AUD$19,100, which is just shy of June 2019's high.
Transaction fees have risen to a 28-month high with the network suffering its worst congestion in nearly three years, reports CoinDesk.
While mining profitability has hit rock bottom in 2020, which can be due to a combination of factors. Some of which include a soaring hashrate and reduction in block reward that was halved back in May.
October also heralded the news that PayPal introduced the ability to buy, sell and hold Bitcoin. But not everybody in the crypto industry is thrilled with the news, reports CoinTelegraph.
This Proven Institutional Investor Is Bullish on Bitcoin
It was all the way back in May 2020 when Bloomberg reported that famed investor, Paul Tudor Jones, was getting involved with bitcoin.
Jones is an industry veteran who first rose to fame in 1987 when he correctly predicted the 1987 stock market crash known as Black Monday.
Since May, Jones revealed he holds a "single-digit" investment and holds bitcoin as a hedge against inflation. His reasoning is due to the "unprecedented amounts of quantitative easing and balance sheet expansion," as reported in CoinTelegraph.
Jones added that,
"Bitcoin has this enormous contingence of really, really smart and sophisticated people who believe in it. It's like investing with Steve Jobs and Apple or investing in Google early."
Is The Game Up For This Notable Exchange?
We learnt at the beginning of the month that major cryptocurrency derivatives trading platform, BitMEX, has been charged with illegally operating in the U.S with allegations of 'failing to implement anti-money laundering (AML) procedures," reports the New York Times.
Money laundering is the concealment of money origins via passing it through a sequence of complex transfers that are difficult to trace. The result is seemingly 'clean' money that appears on the books.
BitMEX is far from the first cryptocurrency suspected to be facilitating criminal activity, but it is the largest and most established to date.
Its executives, including CEO Arthur Hayes, are facing prison sentences.
The platform responded by assuring its users that the exchange is "operating entirely as normal and all funds are safe," and that they "strongly disagree with the U.S. government's heavy-handed decision to bring these charges, and intend to defend the allegations vigorously."
Which Country is Winning The Digital Currency Race?
Nations around the world have been exploring a move to digital currencies over the past couple of years.
CoinDesk reports that "international financial authorities and 10 of the world's largest economies are establishing official standards for regulating and issuing sovereign digital currencies."
But the due date for this report isn't until the end of 2022.
That hasn't stopped many nations exploring their options now with China being a front runner.
A CoinTelegraph article refers to the concern that some Japanese banking officials have on the creation pace of the digital yuan.
In the article, Kenji Okamura, vice-finance minister for Japan's international affairs mentions,
"This advantage is setting the standards of scheme design because it's the first mover (and) the technology platform which would facilitate further wide adoption of that digital currency."
Meanwhile, closer to home, the Reserve Bank of Australia (RBA) sees "no strong public policy case" for a central bank digital currency (CBDC) according to a CoinDesk article.
But that isn't to say that the isn't closely monitoring global progress as Tony Richards, head of payments policy at the RBA said, "there will be many central banks like us who will be closely watching" If another central bank does decide to launch a retail CBDC.
Now For Some Fun: 8 Laws of Bitcoin Revisited
Last month, we shared the 8 Laws of Bitcoin. We enjoyed a meme on reddit that captured an instance of breaking one of the rules (when you shouldn't) and wanted to share it with you.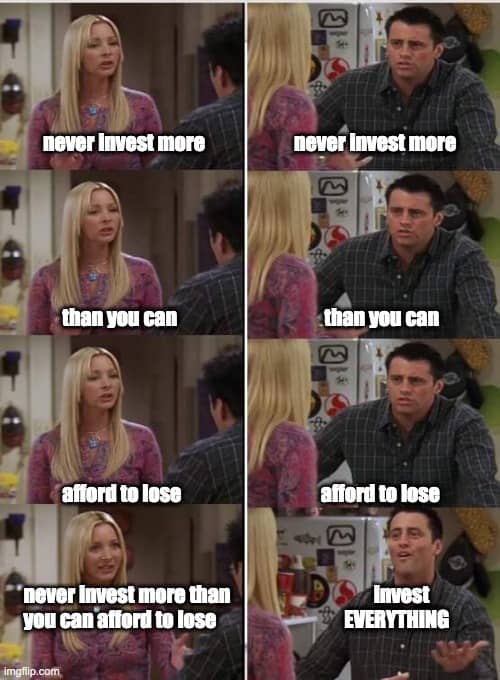 From Around the Web…
Square Puts 1% of Total Assets in Bitcoin in Surprise $50M Investment - CoinDesk
Why Bitcoin Dollar Cost Averaging (BTCDCA) Is The Next Big Thing
New Bitcoin addresses hit two-year high after China advertises crypto
Square outlines the process behind their acquisition of 4,709 bitcoins in an open-sourced document.
Multi-millionaire Dick Smith threatens to sue The Guardian over Bitcoin scam ads
Taproot Merged Into Bitcoin Core
Central bank digital currency could 'threaten' Bitcoin, says CZ