With a new year, comes a new all-time high for Bitcoin. On Jan. 3, 2021, Bitcoin touched AUD $45,000 to print its highest ever recorded price.
It's been a memorable year for Bitcoin. But what's behind its run and what can we expect of Bitcoin in 2021?
The Institutional Investment Dominoes Are Falling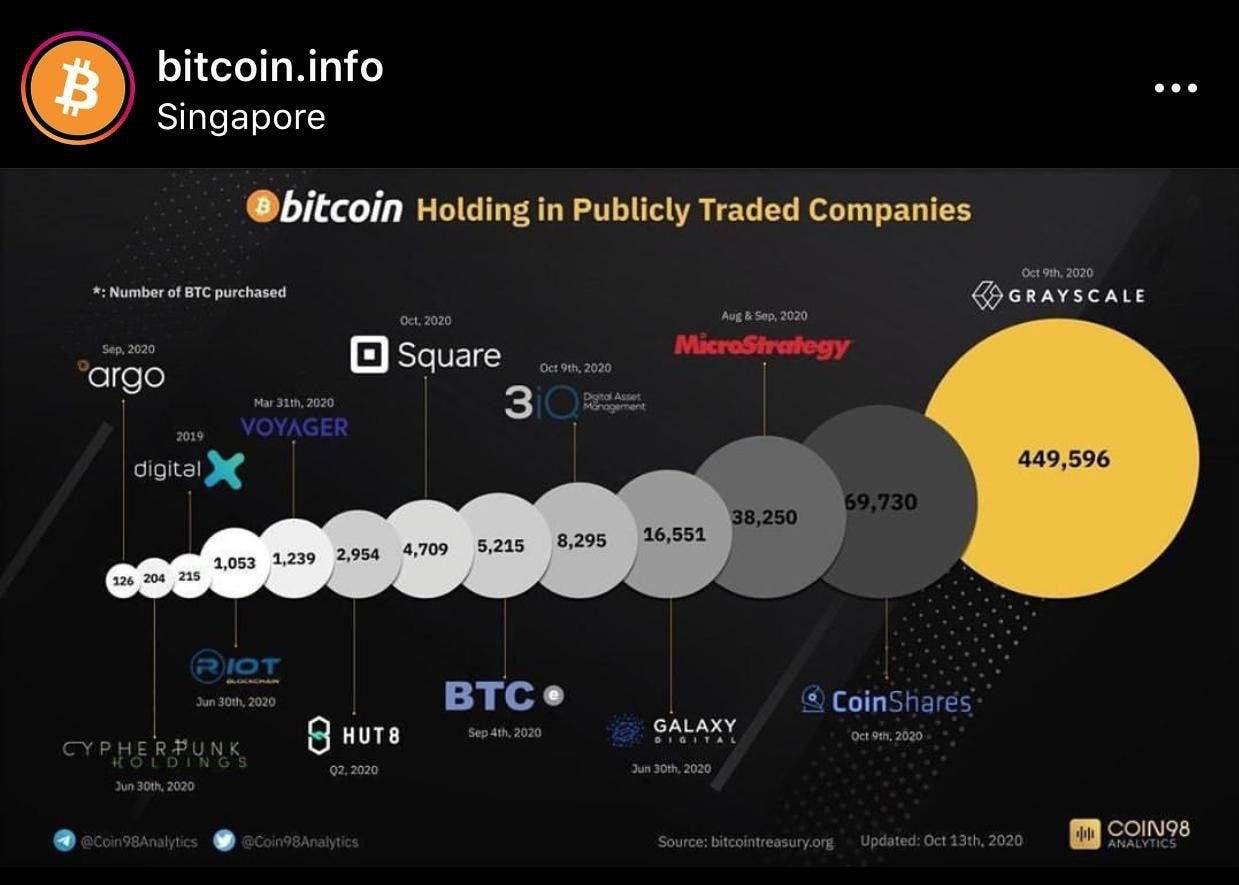 The latest institutional investment company to join the Bitcoin on-ramp is the Massachusettes Mutual Life Insurance Company (MassMutual).
Earlier in the month, MassMutual announced a purchase of $100 million in BTC, which represents just 0.04 per cent of its total Guaranteed Interest Account (GIA).
The life insurance company commented that the purchase forms part of a strategy to remain diversified.
Looking at the above graph, MassMutual's investment is a drop in the ocean, though, it's encouraging to see more financial institutions taking on the digital currency as a store of value.
4 Metrics That Show Why Bitcoin Is Stronger Than Its 2017 High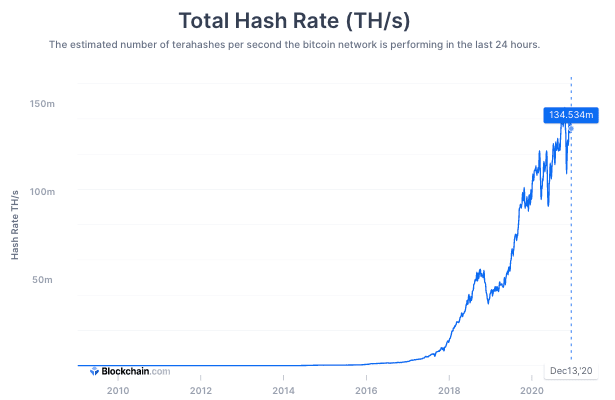 Bitcoin hash rate historical chart. Source: Blockchain.com
Earlier in the month, Bitcoin punched through its previous 2017 all-time high. Even though we're at similar price levels, is 2020 Bitcoin the same as 2017 Bitcoin?
Cointelegraph doesn't seem to think so claiming that the 2020 incarnation is much healthier and stronger in a fundamental sense.
The reason is revealed in comparing transactions.
Firstly, the miner's revenue per transaction has reduced from $130 per block in December 2017 to $60 this December 2020.
Secondly, the number of confirmed Bitcoin transactions has increased by 14% since 2017. The growing number of daily transactions reflects the steady rate of cryptocurrency adoption.
Conversely, the number of unconfirmed transactions is significantly smaller than this time in 2017. Around 120,000 transactions were stuck in the Bitcoin network in December 2017.
On December 16, 2020, just 60 were stuck in the network.
Finally, Bitcoin's hashrate, the metric that reflects its computing power and overall security, has surged over 800% since the same time in December 2017.
Where's The Ceiling For This Bull Run?
Such crystal ball questions usually aren't helpful. But that doesn't stop a swathe of people throwing their reputations on the line to make a prediction.
According to Bitcoin Magazine, Bitcoin is just getting started. What's the basis for this claim?
They point to the last two halving events as evidence for what could eventuate.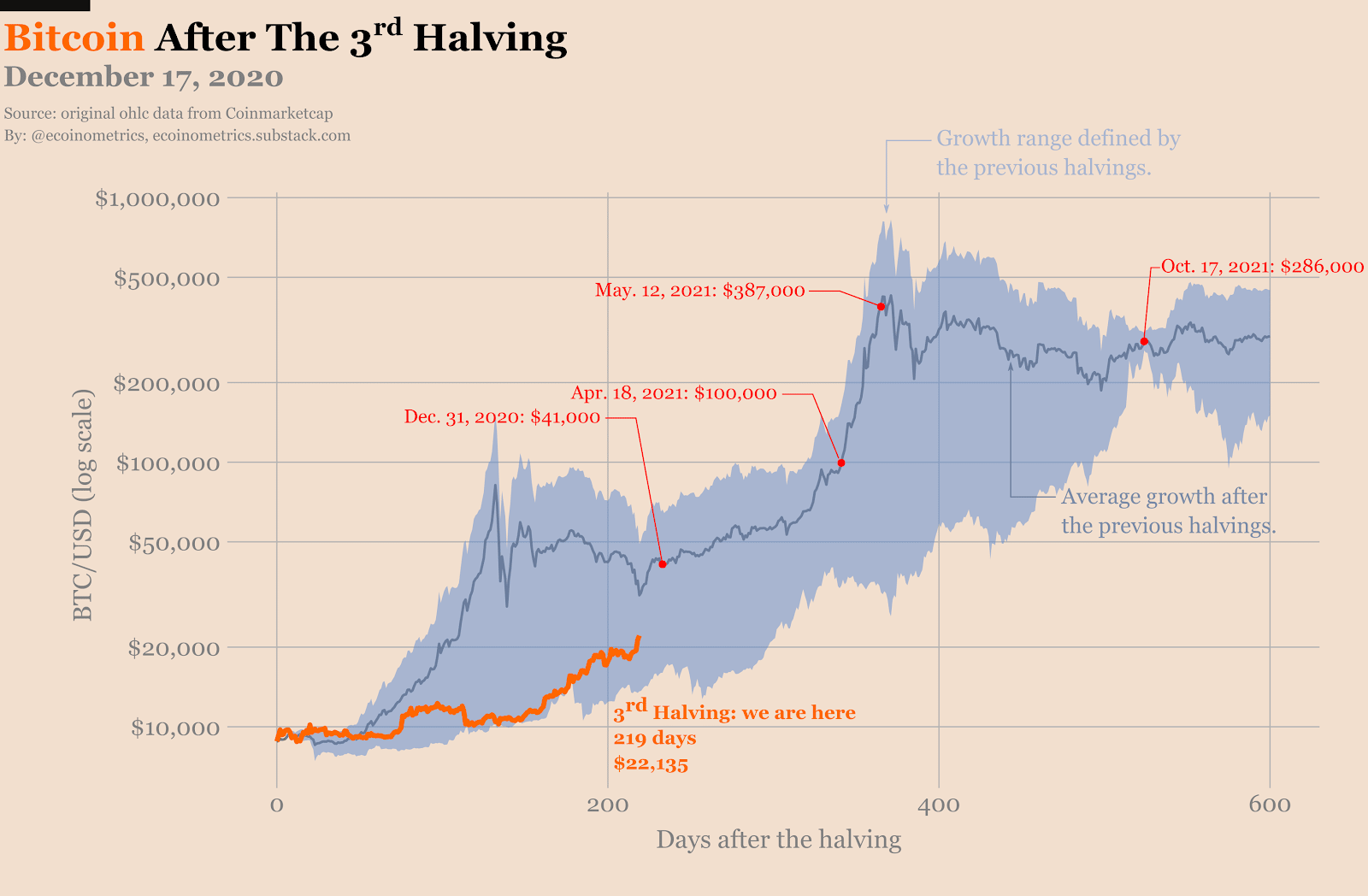 The blue area in the image above defines the growth range that's based on previous halvings. The rationale for the growth is simple: lower supply comes higher prices. History, however, rarely repeats itself but it does rhyme.
Another chart that reinforces the halving narrative is lookintobitcoin.com's Stock-to-Flow Model.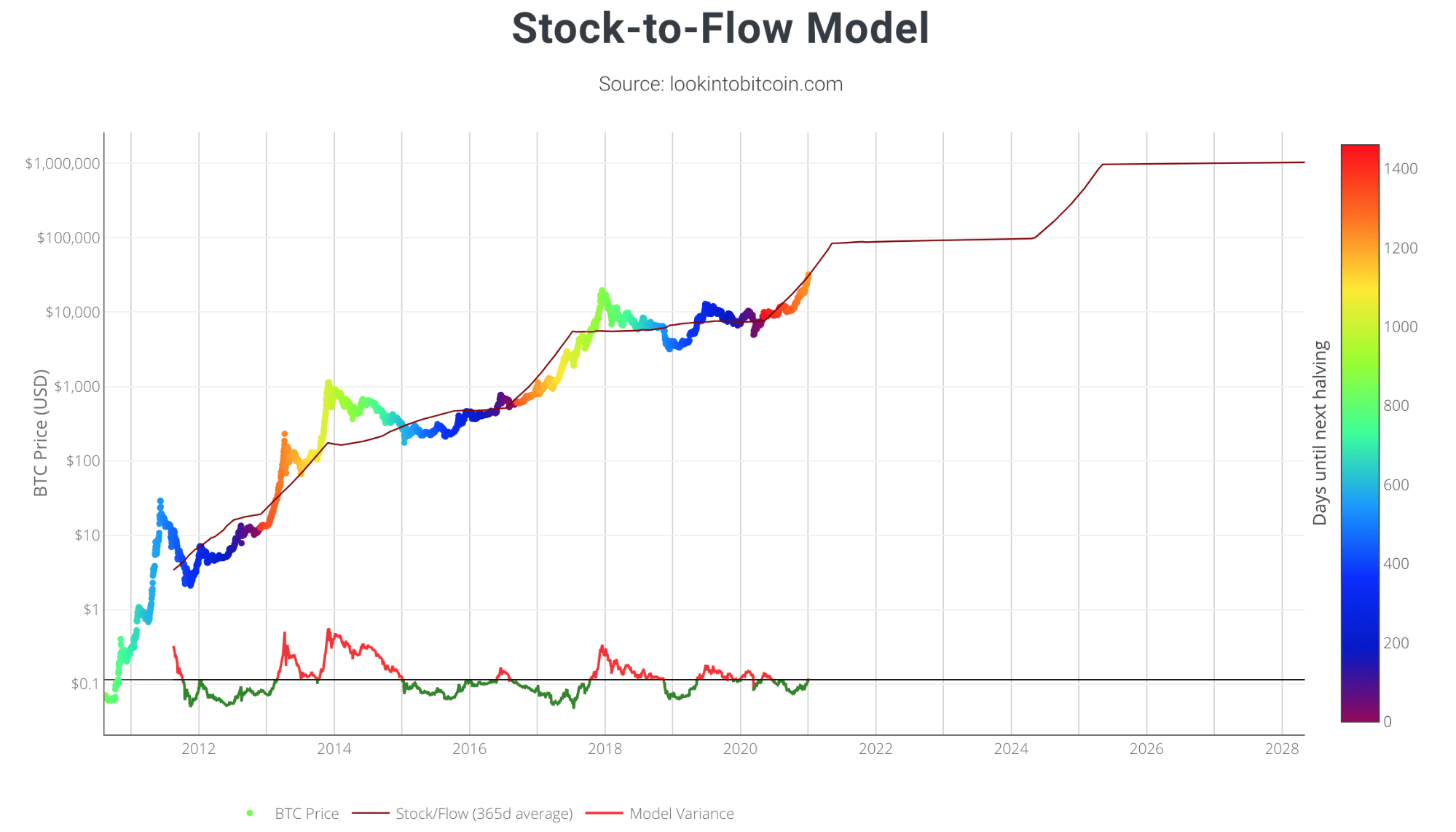 Price tends to find a local bottom in the lead up to a halving event. That's illustrated in blue hues on the above chart.
But it isn't going to be smooth sailing.
Bitcoin Magazine has a balanced view that regulators could look to get involved as Bitcoin's adoption begins to spread.
Just as you couldn't have predicted a pandemic at the start of last year, any future prediction must be viewed with a healthy dose of scepticism.
In the end, these are all narratives.
From Around the Web…