Bitcoin has taken a breather after posting an all-time high of AUD $54,295 in January 2021. The current price isn't too high from the January opening as it consolidates around the AUD $40,000 mark.
The pull-back is hardly a cause for concern as Bitcoin enjoys riding the wave of volatility.
Happy Birthday, Bitcoin!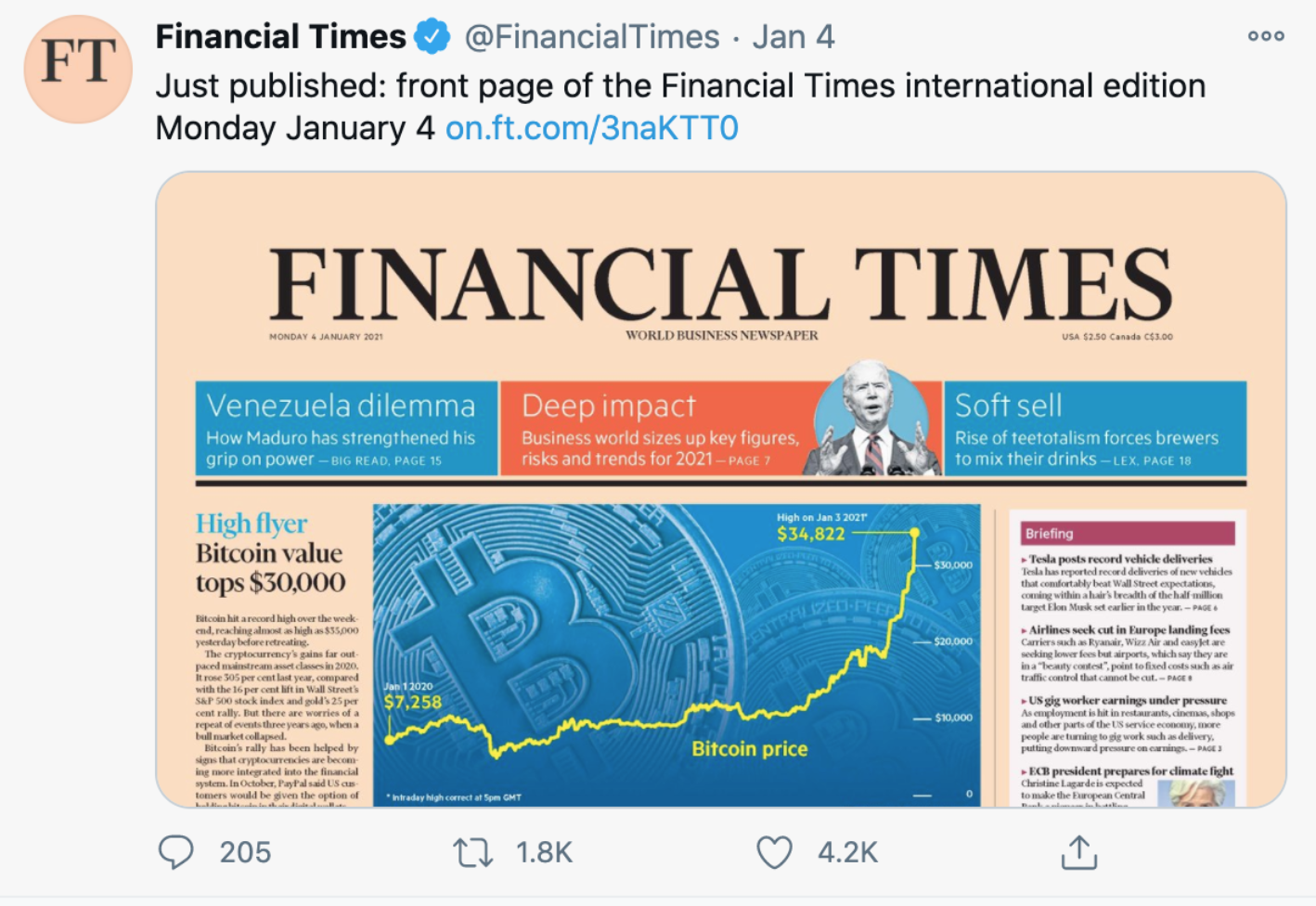 Source: Twitter
Earlier in the month on January 3, Bitcoin celebrated its 12th birthday.
The first ever block mined is regarded as Bitcoin's birth and is known as the genesis block or block 0. Pseudonymous developer(s) Satoshi Nakamoto was the first to mine this block and hidden in its contents was a message.
The message was a headline from the UK newspaper, The Times, which read:
"Chancellor on Brink of Second Bailout for Banks."
As the US begins to roll out a US $3 trillion stimulus package, Bitcoin stole the headline on the front of the Financial Times magazine just one day after its twelfth birthday as reported by CoinTelegraph.
As the Bitcoin bull enters its 13th year smashing record upon record, we ask, what kind of teenager will Bitcoin be?
Bitcoin Gets an Upgrade
The 21st major release of Bitcoin's software went live on January 14, 2021. During a six-month period, over a hundred developers contributed towards the official release, coined Bitcoin Core 0.21.0.
Privacy and performance improvements are at the centre of this version. The release also takes a big step towards the Schnorr/Taproot protocol upgrade.
For more information, check out the Bitcoin Magazine article that sums up the major features of the release.
Miami's Mayor Considers Putting Some of City's Treasury Reserves in Bitcoin
Francis Suarez, the mayor of the U.S. city of Miami, Florida tweeted to the crypto community that he could allocate a small percentage of the city's treasury reserves to Bitcoin.
The move wouldn't be unprecedented, with the city of Wyoming's treasury pointed out as an example for Mayor Suarez to follow, reports Bitcoin.com.
Another Twitter user suggested that the mayor consider "being able to use bitcoin and other cryptos to pay property taxes and city fees," to which he responded:
"We are definitely going to be working on that in 2021."
"World's Largest" Darknet Marketplace Has Been Shut Down
Earlier in the month, the world's largest darknet marketplace, DarkMarket, was shut down.
The marketplace was host to nearly 500,000 users and more than 2,400 vendors worldwide, reports Barrons.
Darknet marketplaces have long been an active use case for Bitcoin due to the digital currency's censorship-resistant qualities.
At the time of shutdown, Darknet homed 4,650 BTC and 12,800 XMR.
From Around the Web…
Pass The Baton Already: Why Bitcoin Is Poised To Replace Gold
Retail investors are largely uninvolved as Bitcoin price chases $40K
Miami's Mayor Considers Putting Some of City's Treasury Reserves in Bitcoin
Achieving Bitcoin Anonymity Through Mixers
Former Canadian Prime Minister Lists Bitcoin as Possible Future Reserve Currency
Dalio Expects to Soon Offer Alt-Cash Fund, Says 'Bitcoin Won't Escape Our Scrutiny