Bitcoin in El Salvador
No summary of Bitcoin's news this month would be complete without mentioning El Salvador, where Bitcoin is now legal tender. Yes, in El Salvador you can now pay for your Starbucks coffee with bitcoin. This landmark moment received a mixed reception in the mainstream media. A key driver for the legal tender law was to make it easier for citizens to accept remittance payments in bitcoin, saving them significant fees compared to the existing infrastructure. Oddly, some media outlets reported it from the perspective of Western Union, the global remittance payment company, who stand to lose US$400 million in fees because of this change. There were also protests with people seemingly angry over this new change, which on the surface appears to have many benefits for Salvadoran citizens and the country's overall economy. So what is really happening? Fortunately, Aaron van Wirdum, editor at Bitcoin Magazine is on the ground in El Salvador. He recently spoke with Stephan Livera about the implementation, displaying a level of journalistic integrity that is sadly missing from much of the world's media. He shared how the citizens' negative experience with the transition from their local currency to the US dollar two decades ago has framed their view of Bitcoin today. The podcast episode is highly recommended.
Twitter Integrates Lightning Tipping
Along with bitcoin becoming legal tender in a sovereign nation, this month also saw a major social media platform, Twitter, enable tipping with bitcoin over the Lightning Network. This announcement may not appear that significant, especially as initially this feature will have a limited reach. However, the potential for this small integration to change how the world interacts with internet content cannot be overstated. Currently, internet content creators resort to advertising to earn revenue, which leads to a poor user experience, but is the only option where few people are willing to pay for content. Lightning could change this landscape; it's sub 1 cent fees enable micro-payments. Most people won't bat an eye-lid at paying a few cents to read an article or watch a video, but content creators who can develop a following of a few thousand fans can start generating a meaningful income. Twitter can see a world where ad-free content is paid for with bitcoin and have taken the first step to make it happen.
Australian Bitcoin Industry Body
At the end of August, the Australian Bitcoin Industry Body sent out their first tweet, announcing the launch of the new body and the initial governing structure. The announcement stated:
"We aim to serve as a voice to the Aussie Bitcoin Industry, available both to government and to the media to answer and assist with any and all Bitcoin related matters."
HardBlock are one of three inaugural members of the industry body, which has recently put forward a submission to the Senate Committee Hearing on Australia as a Technology and Financial Centre.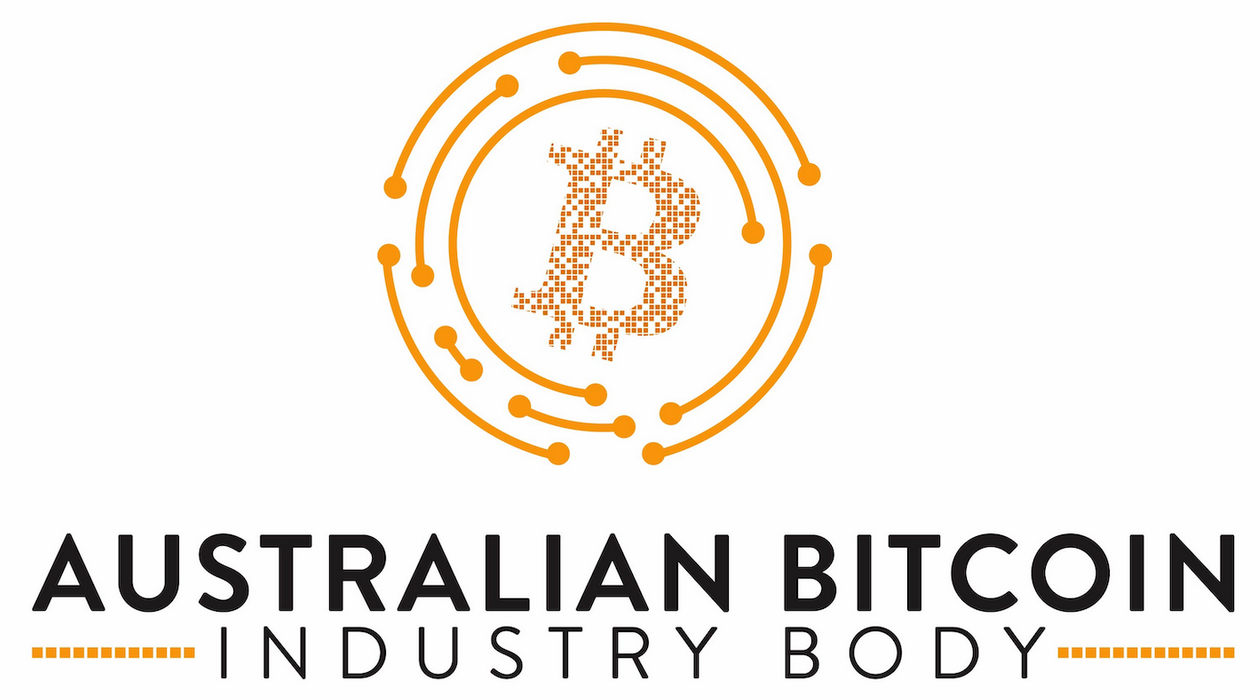 Macquarie Bank to Mine Bitcoin
Australia's largest investment bank, Macquarie Bank, will partner with Canadian firm Blockstream to pilot a Bitcoin mining facility. Blockstream wrote that "Macquarie will invest in the facility while utilizing its deep expertise in energy to explore opportunities to provide renewable energy to power the mining process." This is a natural fit with Macquarie being a significant global investor in renewable energy infrastructure. While there is little public information about the partnership other than this blog post from Blockstream, the announcement opens up the tantalising possibility that a major Australian bank could hold bitcoin on their balance sheet, even if it is only temporarily after receiving mining rewards.
Price Analysis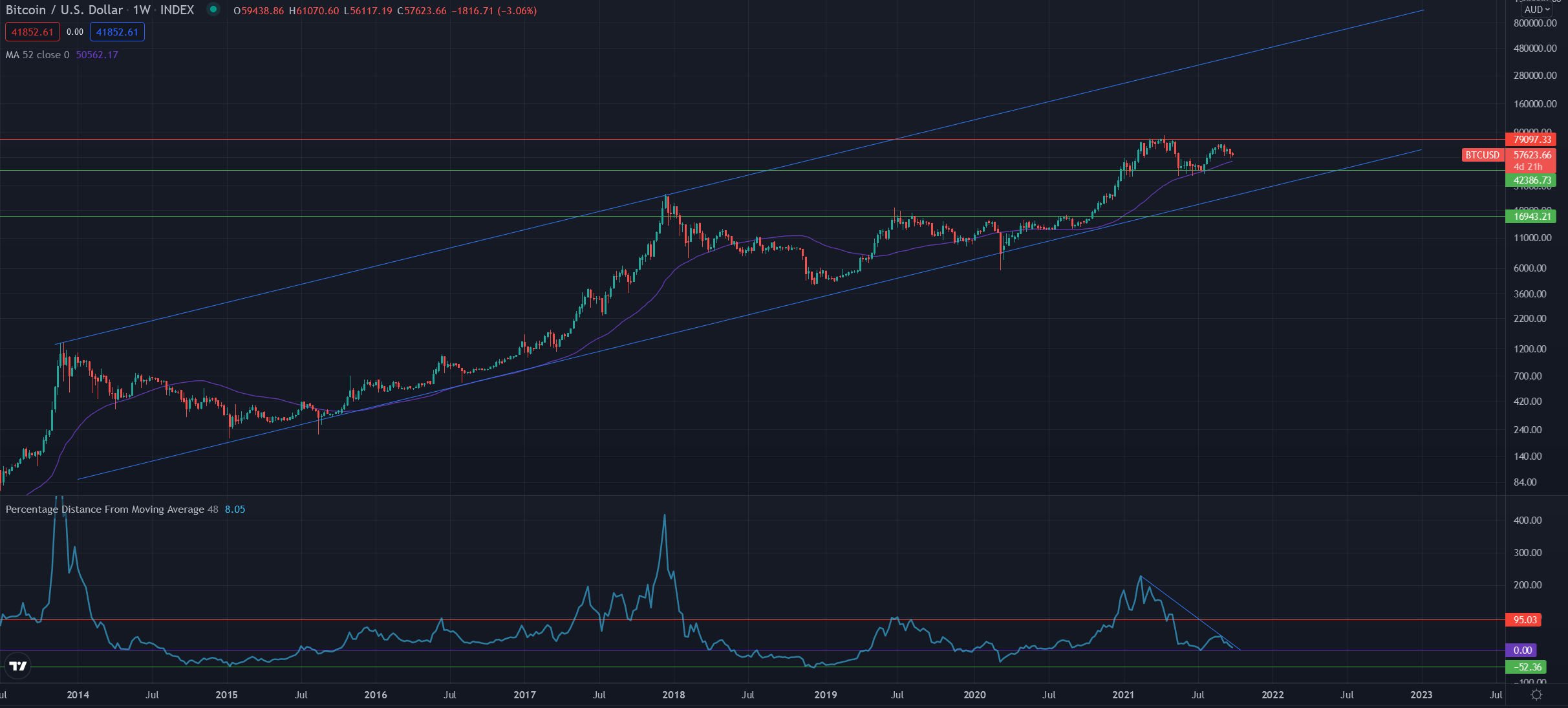 This analysis is presented for informational purposes only, it does not constitute financial advice.
Bitcoin's price action has been in a relatively tight range during September, making its way down from AUD70,000 to as low as AUD55,000 before recovering slightly to AUD58,000 at the time of writing. With fairly lack-lustre action on the price chart, this seems a good opportunity to consider the longer time-frame. This month's chart (in AUD) uses weekly candles on a log scale. The indicator below the chart is inspired by technical analyst Michael Oliver (watch the first 10 minutes of this video to see Michael's bitcoin analysis) and shows the distance that the price is from the moving average (purple line) in the top chart. While it's difficult to know when the price may break out to new highs the moving average does appear to be providing support for now. The key take-away here is just how much up side there is if prior price action is any guide, as long as you're patient.
On a Lighter Note
You may have heard about the staggering amounts of money being paid for digital artwork tokens known as NFTs (Non-Fungible Tokens) recently. The tokens have enabled digital artists to earn an income from a medium that previously was difficult to profit from. While much of the current activity is taking place on blockchains such as Ethereum, as early as 2016 memes known as Rare Pepes were minted using Counterparty, a 2nd layer protocol that leverages the Bitcoin blockchain. Recently some of these Rare Pepes have been migrated to the Ethereum blockchain, where one sold for the staggering sum of US$500,000.